SASD's unique music program invites students to fall in love with music
"The duality and versatility of music are what really brings people together," said Jackson Fleming (11).
Both of these qualities can be found in Stroudsburg Area School District's music program.
It might not be surprising that funding for music education has taken massive cuts in recent years across school districts across the United States. Typically, funding has instead been focused on subjects such as math and science.
School districts that have underwhelming programs and little parental support continue to cut music education funding due to persistent underfunding.
Along with academic subjects, music education is crucial. The act of playing music improves confidence, language and reasoning skills, memorizing skills, and coordination. Music is processed by both hemispheres of the brain, so it can boost cognitive function and be utilized to improve speech and language abilities.
In contrast, the SASD's music program has been shown countless amounts of support. Due to this support, music opportunities can be provided for each student throughout their school experience. An example of the SASD's support is that it is the only school in the Poconos that offers a strings program to students.
All Stroudsburg elementary students receive general music education. At the end of 4th grade, elementary students can choose to take band, orchestra, or chorus for their 5th-grade year. Many students will keep their instrument of choice until their senior year, gradually becoming increasingly skilled.
"
Playing with ensembles in middle school helped me learn more about music, and hearing everyone else get better made me want to continue and learn more things,
— Richard Oliphant (12)
Often, students who start playing an instrument or participating in choir in 5th grade remain in the SASD program throughout their secondary education. 
"My parents made me choose band, orchestra, or choir. I chose band, and I've been addicted to the drums ever since,"  said Benjamin Domanski (11). 
Some students have played their instruments since elementary school. Julian Gajewski (11), who started playing piano at age 7, now participates in all music-related activities offered at Stroudsburg High School, along with some outside of the district. 
"If I didn't join band and orchestra in middle school I wouldn't have joined marching band, show choir, chorale, musical, or any of the things I do," said Gajewski.
Learning music also can help people build self-confidence. Newcomers frequently hesitate, but the sense of accomplishment that follows all of the hard work and patience has repeatedly proven to be well worth the effort. 
"Being an elementary and middle school teacher, I'm involved at the beginning of musical journeys, when students are just being introduced to their instrument of choice,"  said Ms. Karie Gilbertson. She teaches at Arlington Elementary School and Stroudsburg Middle School. "It feels full circle to then sit with some of these same students years later and play through musical scores together, with all of us playing at the same level."
"
I do think I'm talented, but I worked hard to get to this point,
— Elena Casey (12)
To become proficient at playing their instrument, children must make time to practice and embrace the task of learning with discipline. This discipline becomes vital in adult life.
Learning music compositions may have a good effect on self-esteem, whether it's the thrill of learning and performing a piece of music for the first time or the high that follows a live performance. According to a study done by Frontiers.org, music education and psychological well-being are considerably influenced by self-efficacy and self-esteem.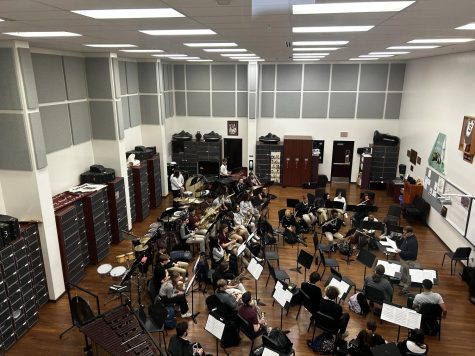 Many students who continue their music education through high school pursue music as a career, while others keep it as a hobby into their adulthood, passing on their passion to their children.
The SASD programs would not be nearly as successful if it weren't for the parents.  Many choose to participate in the Stroudsburg Area Music Supporters (SAMS), which always welcomes newcomers.
With the support of adults in the community who share their excitement for music education, a passion for music can be passed down from generation to generation.
"My dad loved music, it was a passion of his, and no one else in my family is like that," said Greg Ranzan (12).